Campsite Espelette
Discover Espelette
Picturesque village Labourd, Espelette is of course world famous for its chilli peppers. Become the emblems of the city, one finds them in bouquet, dried, on the facades of traditional houses. Every year, in the last weekend of October, a festival is dedicated to this local production: it is the opportunity to attend numerous popular performances, concerts, demonstrations of Basque power and to enjoy tastings of peppers. L'Atelier du piment, a local producer, offers you a fun way to discover the cultivation and production methods of chilli in Espelette, from the open air to your plate. In the village is the main pedestrian zone full of local shops and crafts. In the castle of the barons of Ezpeleta, just next to the city, are the town hall, the tourist office and permanent and temporary exhibitions.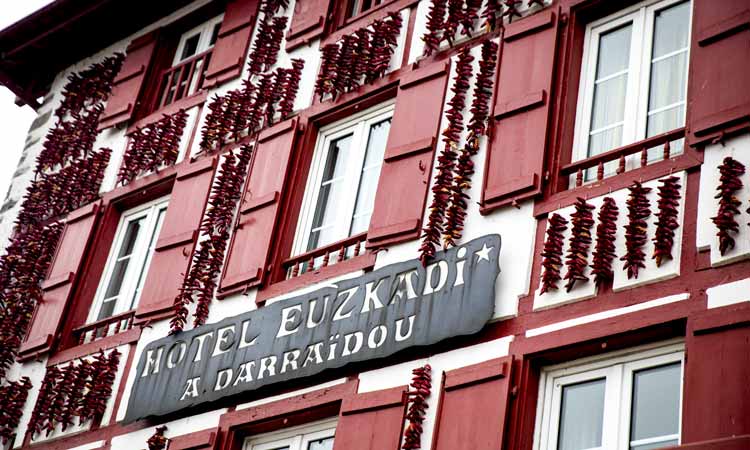 The church Saint-Étienne, fortified building, dominates the Basque cemetery. Its tower-donjon is remarkable for its wooden galleries and painted ceilings dating from the 16th century. In contrast to its massive silhouette, the interior decoration of the church adopts a baroque style. The rich furniture includes a lectern, an altarpiece, a pulpit and a high altar from the 12th and 13th centuries. Finally, less known than the pepper, the pottok is a typical breed of ponies from Basque country, whose breeding is also a speciality of Espelette. A fair is dedicated to them in January, which is the occasion of horseback riding baptisms, exhibitions of agricultural equipment, carriage rides, and tasting of local products.

Campsite La ferme Erromardie, 23 km from Espelette
Don't miss the visit of Espelette, 23 kilometres from the campsite La Ferme Erromardie: by car, you will reach the picturesque Basque village in 30 minutes via Saint-Pée-sur-Nivelle. From April to October, bus excursions are also organised to Espelette from Saint-Jean-de-Luz.
Discover Espelette with our campsite
Scroll horizontally