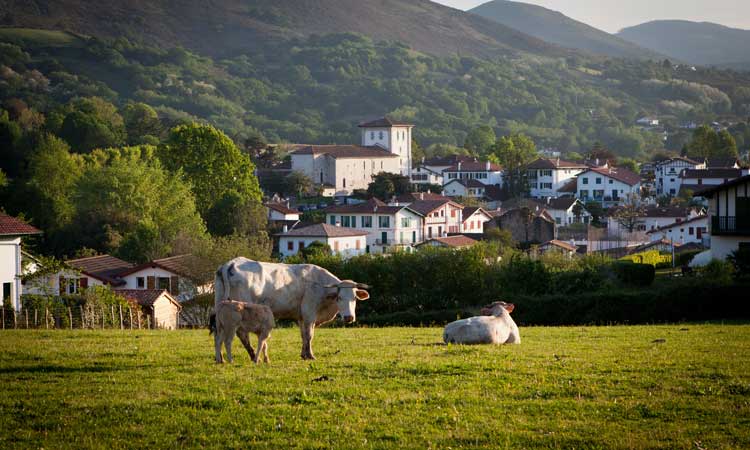 Discover Ascain
Typical village of the Basque Country , Ascain nests on the banks of the Nivelle, at the foot of the Rhune, the last peak of the Pyrenees before the Atlantic. The site is remarkable for its setting, but also for the typical labourdine architecture of its buildings. The village was built around its port on the Nivelle, whose activity continued until 1920. From prehistoric remains to military works, bridges, mills, wash houses and pediments, Ascain's built heritage is rich and varied. Between church and pelota pediment, the centre-bourg preserves its half-timbered houses and sculpted lintels. Along the various streams that water the Nivelle, several washhouses have been beautifully restored. Many water mills also allowed the work of grain, tobacco or a forge. A dozen of these buildings survive today.
The village of Ascain has seen the birth of several pelota champions: it therefore retains many installations, pediments and trinquets, and can boast to house the last craft pelota factory. On the banks of the Nivelle, next to the Roman bridge whose construction dates from the 5th century, a curious building is also the reputation of the village: it is a residence called « la maison du fou ». (erroen etxea), built in the 1930s by an American film decorator in a very unusual style, inspired by the Pueblos Indian villages. It welcomed international personalities such as Charlie Chaplin, Marlène Dietrich, Louis Jouvet, Joséphine Baker, Mistinguett, Maurice Ravel or Le Corbusier..
Campsite La ferme Erromardie, 10 km from Ascain
Do not miss the visit of the charming village of Ascain during your stay at Erromardie Farm located only 10 km away, it is accessible in less than 20 minutes. Like the gabares until the beginning of the 20th century, you just have to go up the Nivelle from Saint-Jean-de-Luz!

Why stay at the campsite la ferme erromardie
Scroll horizontally