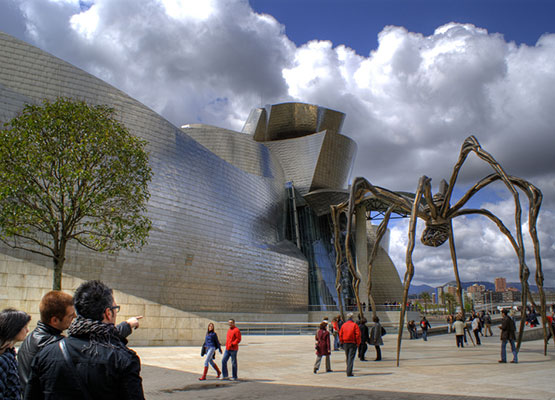 Discover Bilbao
Bilbao, the main city of the autonomous community of the Basque Country, is at the heart of an urban area of over 1 million inhabitants. Thanks to major architectural projects, this Spanish port city embodies the successful marriage of modernity and tradition. Among the most emblematic contemporary architectures of the city is the Guggenheim Museum of Modern and Contemporary Art: designed in glass, stone and titanium, its silhouette is now known worldwide. His visit is one of the highlights of a stay in Bilbao. In contrast to the innovative and ultra-modern style of the Guggenheim, many historical monuments are also worth a visit in the centre of Bilbao, both for their architecture and their interior decoration: among them, do not miss the Diputación Palace and City Hall, the University of Deusto, the Begoña Basilica, and Santiago Cathedral.
Another remarkable site, the Ribera market is the largest covered market in Europe. Located in the heart of old Bilbao, these 10,000 m2 halls built in 1929 surprise with their art deco architecture mixed with eclecticism. The streets of the old town are also an opportunity to go shopping in many shops. Summer sales are from early July to late August! The third week of August is also the « great week of Bilbao » (Aste Nagusia): concerts, family shows, fireworks and many activities for children are organized every year on this occasion. As for gastronomy, let's remember that Bilbao is the capital of cod: from street food to gastronomic tables passing by the most family establishments, discover a thousand and one ways to taste it!
Campsite La ferme Erromardie, 135 km from Bilbao
From the farm Erromardie campsite, it only takes an hour and a half to reach the big Spanish city of Bilbao. From Saint-Jean-De-Luz north, the motorway can be used as far as the entrance to Bilbao.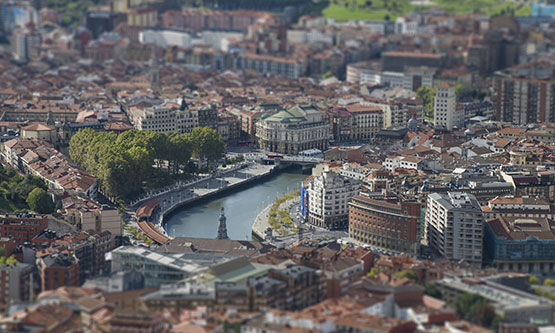 Discover the campsite la ferme Erromardie near Bilbao
Scroll horizontally