Campsite San Sebastian
Discover San Sebastian
Known as the « Pearl of the Cantabrian Sea », San Sebastian is particularly famous for its harbour: the bay of Concha, surrounded by the Igeldo and Urgull rocky mountains, is home to one of Spain's most famous urban beaches. The old town lies at the foot of Mount Urgull: its colourful buildings, old churches and numerous shops contribute to the image of San Sebastian as a romantic city. The seaside resort also draws its charm from its wide avenues Haussmanniennes and its Belle-Époque buildings: the thermal baths of La Perla, the Victoria Eugenia theatre, or the Maria Christina hotel. A day in San Sebastian passes by an ascent of Mount Urgull: you can discover the remains of the city's ramparts and the guns pointed towards the ocean.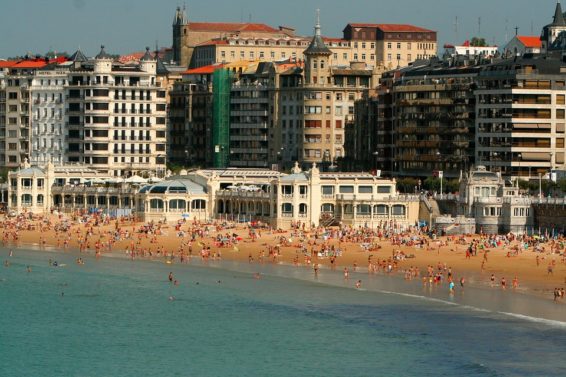 One benefits from an exceptional panorama on the three beaches of the bay. Several palaces and castles can be visited: the royal palace Miramar whose gardens go down to the ocean, the palace of the Duke of Mandas in the Cristina Enea Park, the neoclassical palace of Aiete, or the fortified castle of La Motte. The city is also rich in an important religious heritage, between the cathedral of Buen Pastor, the baroque basilica Santa Maria, and the Gothic church of St. Vincent. During your walk, do not miss the Constitución square in the heart of town, the gardens of Gipuzkoa square, and Easo square in the Amara district. Many remarkable bridges can also be admired along the Urumea River.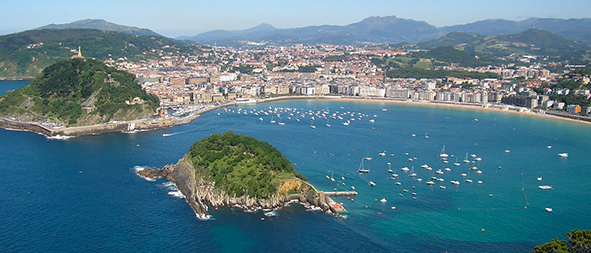 Campsite Erromardie Farm, 36 km from San Sebastian.
San Sebastián is only 20 km from the border town of Hendaye, in the Basque Country. The campsite Ferme Erromardie in Saint-Jean-de-Luz is located 36 km from the charming Spanish city. By taking the A63 motorway then the AP-8, it takes about 35 minutes to reach the heart of the old town.
Enjoy your stay in san sebastian with our campsite
Scroll horizontally