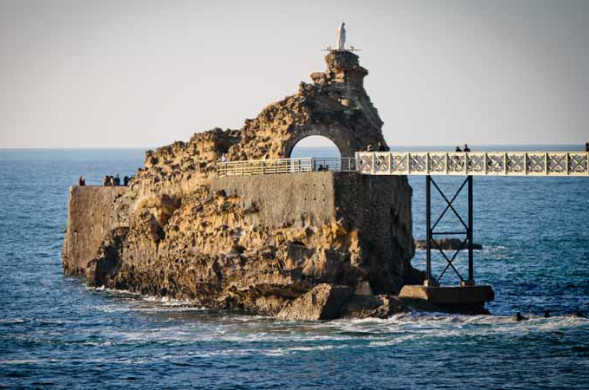 Discover Biarritz
A renowned seaside resort, Biarritz has also been the European surf capital since the 1950s. Today there are 18 schools of all levels, as well as numerous surf shops and equipment rental points. A must on the Basque coast, the surfing house is a multifaceted space dedicated to surfing culture: exhibitions, thematic media library, information, or lockers, the place offers multiple services to surfers who are passionate or just curious. Resolutely turned towards the ocean, Biarritz invites you to get to know the Atlantic better by visiting the Cité de l'océan: modern and fun, the site reveals the secrets of the ocean through virtual animations, conferences, interactive experiences and exhibitions. You can try a surf simulation game or do a virtual 3D dive on the Great Barrier Reef.
Sea lovers will also find Biarritz's large aquarium in the city centre, in an art-deco style building dating from the 1930s. The Basque city is also rich in an important natural, cultural and architectural heritage. The most famous site, today emblem of the city, is that of the virgin rock natural curiosity become monument, the rock island surmounted by a statue of the virgin was drilled a tunnel in the 19th century at the initiative of Napoleon III. The rock is also accessible by a footbridge. From this same period of the Second Empire dates the construction of the palace « Hôtel du Palais », former « Villa Eugénie ». Other remarkable sites in the city include the Imperial Chapel, the Historical Museum in an ancient Anglican church, and the Byzantine Orthodox Church. Finally, do not miss to climb the 248 steps of the Biarritz lighthouse to enjoy an exceptional panoramic view over the Bay of Biscay, between sand moors and rocks from Basque country.
Campsite La ferme Erromardie, 16 km from Biarritz
Located 16 km from the campsite La Ferme Erromardie, the town of Biarritz is accessible in 15 to 20 minutes by car. It will take you 25 minutes to reach the Esplanade de la Vierge along the coast. The City of the Ocean, built south of the city, is only 10 km from your vacation spot!

See the advantages of a seaside campsite
Scroll horizontally